Conference Venue
Address of the University
Universität Regensburg
Universitätsstraße 31
93040 Regensburg
For more information regarding the conference venue please refer to the menu to the left.
"The city of Regensburg is old and new at the same time"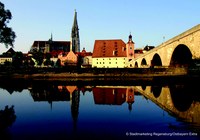 Monk Otlohs words, written in 1050, characterize today, almost 1,000 years later, the essence of the city: Regensburg is one of the oldest cities in Germany and is also a modern European city.
Today Regensburg is with about 150,000 inhabitants the fourth largest city in Bavaria. The city looks back on a long and interesting history: It was built in 179 AD by the Roman emperor Marcus Aurelius as "Castra Regina" at the northernmost point of the Danube. In the early Middle Ages Regensburg was the first Bavarian capital. As a free imperial city of Regensburg was from 1245 a sovereign territory.
The historical buildings, old churches and interesting museums attract a lot of culturally-minded visitors (Sightseeing in Regensburg). Since there was hardly any damage during World War II, visitors can experience architecture and history stretching in an unbroken line from the Roman settlement on the banks of the river Danube to the present-day city. Because of the city´s unique status as "the only authentically preserved large medieval city in Germany" the "Old Town Regensburg with Stadtamhof" was declared UNESCO world heritage sites in 2006.
Regensburg is no open-air museum - instead, modern living and historical surroundings make a perfect match. With about 30,000 students and a high pub density, the townscape is conspicuous for its many young people.
Get more information: www.regensburg.de/tourismus.
"Regensburg – One of the most beautiful cities in the world" (Lord Norman Foster)